Foreign Office Minister lobbies for Arms Trade Treaty during visit to US
After a stop in New York City for the UN Conference on the Arms Trade Treaty, Foreign Office Minister Alistair Burt wrapped up his East Coast visit with a day in Washington.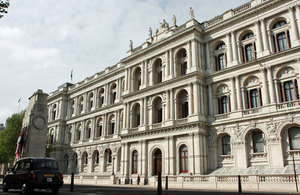 During the New York leg of his trip, the Foreign Office Minister offered his support and desire to work closely with other states in pursuit of a strong Arms Trade Treaty - a legally binding agreement between states to use the same standards in assessing whether to export conventional arms. Such a treaty would help regulate the global arms market to prevent weapons from reaching the hands of terrorists, insurgents and human right abusers.
"The unregulated trade in conventional arms feeds conflict and undermines peace and security," Foreign Office Minister Alistair Burt said. "Since 2006, the UK has been at the front of a global effort to introduce more effective and coherent international regulation of that trade."
Alistair Burt discusses the UK's role in the Arms Trade Treaty
Foreign Office Minister Alistair Burt speaks to the FCO's Head of Counter-Proliferation Department, Jill Morris about the challenges of the Arms Trade Treaty and the role that the UK plays.
Also in New York, Foreign Office Minister Alistair Burt was interviewed by J.J. Goldberg, Senior Columnist of The Jewish Daily Forward on Monday afternoon. The interview provided an opportunity to discuss the UK's relationship with Israel and to present broader UK-Middle East foreign policy issues to a primarily American-Jewish audience and foreign policy commentators who The Forward counts among its readership. The Foreign Office Ministar also discussed these issues with senior Jewish community representatives.
Tuesday morning in Washington, Foreign Office Minister Alistair Burt joined a "British prosperity" breakfast meeting hosted by the British American Business Association. During the rest of his visit, he met with State Department officials and think tank experts to discuss pressing foreign policy issues important to both the UK and US, particularly the latest developments in the Middle East. Among other senior officials, the Foreign Office Minister met with William Burns, Deputy Secretary of State; David Hale, Special Envoy for Middle East Peace; and Marc Grossman, Special Representative for Afghanistan and Pakistan.
Search the news archive
Published 3 July 2012