News story
Foreign Office Minister Jeremy Browne visits Mexico
Foreign Office Minister Jeremy Browne will meet key inward investors and UK businesses based in Mexico during his visit from 20 to 24 November.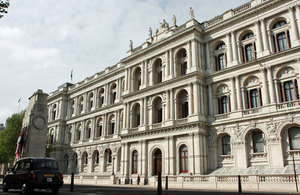 Minister Jeremy Browne visits Mexico for the first time
Jeremy Browne MP, Foreign Office Minister for Mexico and Latin America, will be visiting Mexico from 20 to 24 November. It is his first trip to the country and follows the recent visit by Energy and Climate Change Minister Chris Huhne earlier this month.
The Minister will have bilateral meetings with Deputy Foreign Minister Aranda. He will also meet key inward investors and UK businesses based in Mexico, deliver a speech to Mexican and British businessmen based in Monterrey and visit Cancun, which is the main destination of British tourists to Mexico.
Speaking ahead of his visit, Minister Browne said:
"I am delighted to be the first Foreign Office Minister to visit Mexico under the UK's coalition government. My government is determined to widen and deepen its relations with Mexico, as one of the big emerging economies in the global economy, and a key Latin American partner for us. We already share many values and work closely on the full range of international issues, including on climate change, in the G20 and on the UN Security Council.
"The trade and investment relationship between our countries is a key theme for my visit. The UK is Mexico's fifth largest investor. And Mexico is the UK's second largest trading partner in Latin America. But there is a huge amount of unrealised potential for further trade between our two nations. I will visit Mexico City and Monterrey, to highlight the potential for business opportunity, and to speak to business directly to understand what my government can do to support increased trade and investment."
Following his visit to Mexico, the minister will visit Panama from 24-25 November and Guatemala on 26 November.
Published 20 November 2010