Foreign Office Minister Jeremy Browne visits Korea
Foreign Office Minister Jeremy Browne makes his first official visit to the Republic of Korea from 7-9 July.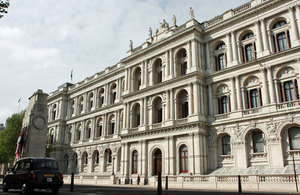 Jeremy Browne MP, Minister of State at the Foreign and Commonwealth Office
The Foreign Office Minister's portfolio includes responsibility for the UK's relations with East Asia, as well as a range of other issues including South East Asia, migration, human rights, consular policy, and the London 2012 Olympics.
During his trip, he will have bilateral meetings with Park Seok-hwan, First Vice Foreign Minister, Um Jong-sik, Vice Minister for Unification and Representative Dr Chung Mong-joon, where he will discuss a range of foreign policy issues. He will also meet Trade Minister Kim Jong-hoon, Democratic Party Chair Sohn Hak-kyu, and visit the Demilitarised Zone (DMZ). With the Minister of Environment Yoo Young-sook he will launch a project to promote regionally the Korean 'Stern Review' which investigates the economics of tackling climate change.
He will meet with a range of Korean and British companies to discuss ways in which the UK and Korea can strengthen trade relations, following the coming into force of the EU/Korea Free Trade Agreement.
He will also award the 2011/12 Chevening scholarships to successful Korean candidates including, for the first time, to a "new settler" from DPRK.
Speaking ahead of his visit, the Foreign Office Minister said:
"I am really looking forward to my first visit to the Republic of Korea. The new Coalition Government in the UK is determined to deepen its relations with Korea. We share many values and work closely on a wide range of international issues, including regional security, Afghanistan, Iran and non-proliferation.
The trade and investment relationship between our countries is extremely important and has great potential for growth. The UK Government is looking forward to making the most of the EU/Korea Free Trade Agreement to deepen our trading relationship with Korea. Korea is also a very important partner in terms of foreign investment - the UK was the second largest destination for Korean overseas investment in 2010. I look forward to meeting Korean companies during my visit to Seoul to support this welcome trend."
---
UK Foreign Office Minister Jeremy Browne's visit to Incheon Bridge
---
UK Foreign Office Minister Jeremy Browne's visit to Korea
Please click on the image to find out more about what it shows.
Published 7 July 2011