News story
Foreign Office Minister for Human Rights discusses internet freedom with Facebook executives
Foreign Office Minister for Human Rights Jeremy Browne met Facebook Marketing Director Randi Zuckerberg to talk about freedom of expression on the internet.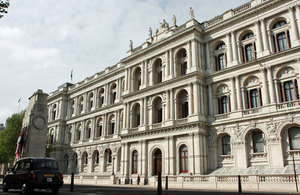 Following the meeting, the Minister said:
"The right to freedom of expression is one of our most cherished values in the United Kingdom. However, this is not the case in large parts of the world. The rise of social media websites, such as Facebook, and the censorship they face has highlighted the complexities involved in freedom of expression on the internet. I am working on how to best ensure that people throughout the world can benefit from access to free information and knowledge on the internet."
Randi Zuckerberg and Facebook's Director of European Policy Richard Allan also spoke to Foreign Office staff about the relationship between social media and government, and ways to deliver public diplomacy on the internet.
Published 8 October 2010