Foreign Office Minister for Asia Pacific visits Indonesia
Foreign Office Minister Jeremy Browne arrived in Jakarta on 6 Dec on his second official visit to Indonesia as Minister for State for Asia Pacific.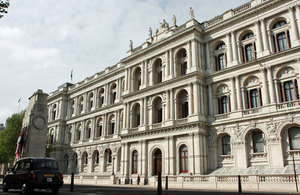 He will meet a range of Indonesian ministers, government officials and UK and Indonesian business representatives. The Foreign Office Minister will also open a seminar entitled "Creating UK-Indonesia Partnerships in Sustainable Infrastructure Development" in Jakarta.
He said:
"Indonesia is a hugely important partner for the UK, and it is a great pleasure for me to be returning here, at a time when the British government has identified Indonesia as a priority country for the UK to engage with. We are expanding our embassy in Jakarta, which will enable us to strengthen and deepen the broad range of relationships that the UK and Indonesia already enjoy. I am delighted to have the opportunity to follow up on last month's successful trade talks by meeting a range of government and business representatives during my trip. There is excellent potential for further trade and investment between the UK and Indonesia, which the British government is keen to support and encourage."
Published 7 December 2011