Foreign Office Minister extremely concerned by situation in Yemen
Minister for the Middle East Alistair Burt said that the UK is working with all sides and diplomatic allies to ensure the political crisis in Yemen is resolved as soon as possible.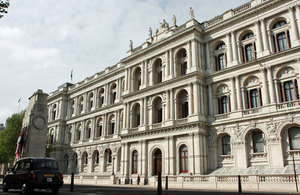 Speaking today, he said:
"I remain extremely concerned about the deteriorating security, political and economic situation in Yemen. A peaceful settlement to the political crisis is urgently required if Yemen is to avoid a humanitarian crisis and increasing risks of conflict.
"I discussed the latest developments with Yemeni Foreign Minister Dr Abu Bakr Al-Qirbi on 13 September. I welcome President Saleh's authorisation of Vice President Hadi to sign the GCC initiative and to agree with the opposition a mechanism for its implementation. I call upon both the ruling party and the opposition to engage in good faith now in dialogue under the Vice-President's authority. He should build on ideas already developed in agreement with both sides and the international community, which include: the principles of the GCC initiative, the formation of a national unity government headed by the opposition, the formation of a higher committee for security and military affairs to restore security across the country and holding Presidential elections before the end of 2011.
"We are working with all sides and diplomatic allies to ensure the Yemeni political crisis is resolved as soon as possible. The UN General Assembly in New York next week will be a useful opportunity for Foreign Ministers to review developments."
Published 16 September 2011