Foreign Office Minister expresses deep concern at sentencing of Iranian human rights lawyer
Foreign Office Minister Alistair Burt expressed concern at the sentence handed to Iranian human rights lawyer Abdolfattah Soltani, saying the case highlights the callous disregard of the Iranian government for its people and the rule of law.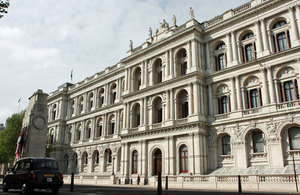 Speaking today, Minister for the Middle East Alistair Burt said:
"I am deeply concerned by reports of the re-sentencing of Iranian Human Rights Lawyer Abdolfattah Soltani to thirteen years in prison following an appeal. Soltani appears to have been targeted because of his efforts to defend the rights of political and human rights activists in Iran.
"This case highlights the callous disregard shown by the Iranian Government to its citizens, and to the rule of law. All people have the right to live in freedom and to express their opinions peacefully and freely.
"I call on the Iranian Government to overturn Abdolfattah Soltani's severe and unjust sentence and stop the harassment of individuals campaigning for basic human rights for Iranians."
Published 19 June 2012