Foreign Office Minister expresses concern at human rights situation in Iran
The UN Human Rights Council is today discussing the Special Rapporteur's report on human rights in Iran.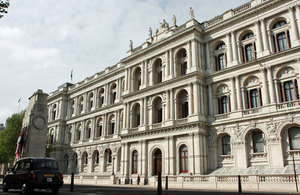 Commenting on the report, Foreign Office Minister Alistair Burt said:
"The report from the UN Special Rapporteur, Dr Ahmed Shaheed, makes worrying reading. Iran continues to show a flagrant disregard for its international obligations to respect the universal rights and freedoms of its citizens. It has made no effort to implement the recommendations it accepted during the Universal Periodic Review process.
"In the last year, Iran has continued to execute more people per capita than any other country in the world, increased arbitrary arrest of ethnic and religious minorities, and attempted to silence dissent through control of the media and the detention of journalists, opposition leaders and human rights defenders.
"Most recently, I was appalled to see reports of the sentencing of lawyer Abdolfattah Soltani to 18 years in prison. It is shocking that the charges against him of co-operation with an NGO and receiving an international human rights award should be considered offences at all.
"It is disappointing that Iran has refused to engage with Dr Shaheed, denying him the opportunity to visit and attempting to discredit his report. I urge Iran to recognise its international obligations and co-operate with the Rapporteur's work by allowing full and unrestricted access to the country."
Published 12 March 2012