Foreign Office Minister expresses concern at detention of Ukrainian opposition politician
Foreign Office Minister Alistair Burt has commented on the decision to detain the former Ukrainian Prime Minister and leading opposition figure, Yulia Tymoshenko, following her court appearance on 5 August.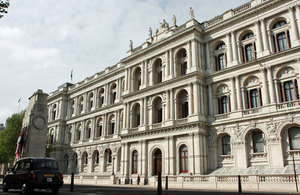 Speaking today, Mr Burt said:
"I was very concerned to learn of the detention of the Ukrainian opposition politician, Yulia Tymoshenko, on 5 August.
"With our EU and international partners, the United Kingdom will continue to monitor closely the trial of Ms Tymoshenko and the cases against a number of her former ministers and officials.
"I urge the Ukrainian authorities to adhere to the highest democratic standards, including respect for human rights, the rule of law and an independent, transparent and fair judicial process. These are prerequisites for its closer integration with the European Union."
Published 6 August 2011