Foreign Office Minister discusses trade with Canadian Trade Minister at London 2012
Minister for North America Alistair Burt today attended the Olympic Gymnastics with Canadian Trade Minister Ed Fast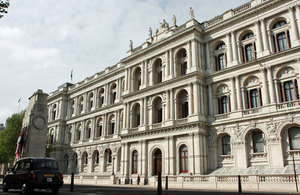 Speaking at the event, the Minister said:
"It was a pleasure to meet Mr Fast today to discuss the EU-Canada free trade agreement (CETA). We reaffirmed our commitment to securing an ambitious and far reaching agreement which will boost our already thriving bilateral trade to even greater heights.
"We also discussed the importance of implementing the UK-Canada Joint Innovation Statement. I hope our talks today will lead to leaps of imagination and creativity as dazzling as the feats we've just seen. We are determined to strengthen cooperation in the fields of science, technology innovation and entrepreneurship".
The EU is currently negotiating a comprehensive economic and trade agreement with Canada. The last formal round of negotiations took place in Ottawa in October 2011. The aim is to conclude the negotiations in 2012. Further detail can be found on the EU website.
The UK and Canada signed a Joint Innovation Statement in Montreal in May 2011. It aims to enhance UK-Canada cooperation in priority areas of science, technology, entrepreneurship and innovation in order to drive economic growth and address global challenges. Further information is available on our UK in Canada website
Published 9 August 2012