Foreign Office Minister discusses Syria with Arab League Secretary General
Minister for the Middle East Alistair Burt said that the Syrian Government must allow the Arab League mission independent and unrestricted access to all areas of Syria.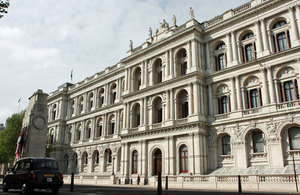 Speaking after telephone call with the Arab League Secretary General on 29 December he said:
"The UK has consistently supported the Arab League's efforts to encourage the Assad regime to end the cycle of violence in Syria. The Secretary General and I discussed the recent deployment of the Arab League monitoring mission to report on Syria's compliance with the Arab League's plan for resolving the current crisis. I welcomed the Arab League's plans to increase the size of the mission over the coming days, which will bolster its capacity to report independently on the situation in Syria. I look forward to the mission's interim report in due course.
"Unfortunately, reports show that the violence has continued in Syria over the past few days. I urge the Syrian government to meet fully its obligations to the Arab League, including immediately ending the repression and withdrawing security forces from cities. The Syrian government must allow the Arab League mission independent and unrestricted access to all areas of Syria and to the Syrian people."
Published 30 December 2011