Foreign Office Minister deplores the loss of life and injury at Camp Ashraf in Iraq
Foreign Office Minister Alistair Burt commented on the Camp Ashraf incident in which at least 17 civilians were killed.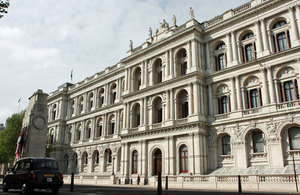 Speaking today the Foreign Office Minister said:
"The UK Government is deeply disturbed to read reports that a number of civilian residents have been killed and many more wounded at Camp Ashraf today. We absolutely deplore such loss of life and injury. At present the exact circumstances are unclear, and we are pressing the UN and the Iraqi Government for more information.
"The Iraqi Government has provided us with assurances on several occasions that it will treat individual residents of Camp Ashraf in a humane manner, act in accordance with Iraqi law, the Iraqi Constitution and its international obligations. We urge the Iraqi Government to uphold this commitment.
"Our Ambassador in Baghdad has been expressing our concerns to the Iraqi Ministry of Foreign Affairs at the highest levels. We call on the Iraqi Government to cease violent operations in Camp Ashraf immediately and particularly to ensure that the residents have full access to medical care. It is important that the Government of Iraq takes immediate steps to calm the situation and ensure that the human rights of the residents are respected. We are aware of a request by the United Nations Assistance Mission for Iraq (UNAMI) to send a humanitarian monitoring mission to Camp Ashraf as soon as possible. We fully support this request and therefore urge the Iraqi Government to quickly grant permission. We call on all sides to engage in a constructive dialogue that can lead to a lasting resolution to the situation."
Published 8 April 2011