Foreign Office Minister "deeply disturbed" by sentencing of Iranian human rights lawyer
Minister for the Middle East and North Africa Alistair Burt calls for Iran's authorities to overturn the sentence.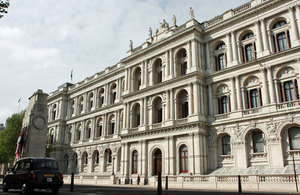 "I am deeply disturbed to learn that lawyer Nasrin Sotoudeh has been sentenced to 11 years in prison and that journalist Shiva Nazar Ahari has been sentenced to 4 years and 74 lashes on appeal. Both women have been convicted for no more than courageously doing their jobs and working for the constitutionally guaranteed rights of their fellow Iranian citizens. I call on the Islamic Republic of Iran's authorities to overturn these harsh sentences.
I am also deeply concerned by reports that Jafar Kazemi and Mohammad Ali Haj-Aghaie may be imminently executed for 'enmity against God'. The United Kingdom condemns the use of the death penalty, and appeals for these sentences to be commuted."
Published 11 January 2011