Foreign Office Minister deeply concerned by latest outbreak of violence in western Burma
Foreign Office Minister Hugo Swire called for an immediate end to the violence following further clashes in Rakhine State in western Burma between Rakhine Buddhists and Rohingya Muslims.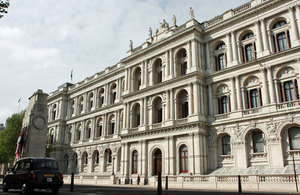 The Minister for South East Asia said:
"I am deeply concerned at the latest outbreaks of inter-communal violence in Rakhine State: the most serious since the initial violence in June. We have received reports that clashes over the last few days have left several thousand people homeless and resulted in an unverified number of casualties.
"We call on all parties for an immediate end to the violence. We further urge the government, the police, and the local gendarmerie to take all necessary action to protect civilians, and to grant full humanitarian access to the areas affected as soon as possible.
"The latest violence reinforces the need for a long-term solution to the situation in Rakhine State, involving an inclusive political settlement that protects the rights of all members of the local population.
"The UK and international community will continue to monitor the situation very closely. We have welcomed the significant reform programme underway in Burma, led by President Thein Sein and Daw Aung San Suu Kyi, and hope that as a matter of urgency they can work with the local authorities and communities to resolve the situation in Rakhine State in a peaceful and constructive manner."
Published 24 October 2012