Press release
Foreign Office Minister deeply concerned at planned Gaza executions
Alistair Burt expresses deep concern at planned prisoner executions in Gaza and reiterates UK opposition to death penalty.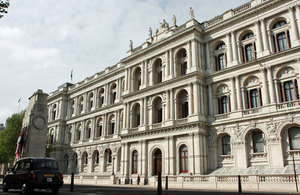 Reacting to statements setting out plans for public execution of prisoners in Gaza following Eid al-Fitr, Foreign Office Minister for the Middle East Alistair Burt said:
I am deeply concerned at reports of plans to publicly execute prisoners in Gaza in the coming days.

The UK opposes the death penalty in all circumstances as a matter of principle. We consider that its use undermines human dignity and that there is no conclusive evidence of its deterrent value.

The UK calls again for the implementation in Gaza of the moratorium on the death penalty which is present in the West Bank. We hope that this moratorium will lead to the eventual abolition of the death penalty in the Occupied Palestinian Territories.
Further information
Follow Foreign Office Minister Alistair Burt on twitter @AlistairBurtFCO
Follow the Foreign Office on facebook and Google+
Published 13 August 2013