Foreign Office Minister David Lidington concerned about death penalty in Belarus
Minister for Europe David Lidington comments on the recent execution of two people in Belarus.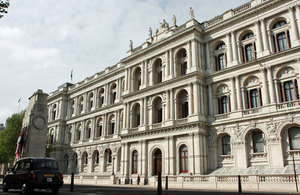 "I was gravely concerned to learn that Belarus has recently carried out the death penalty on two of its citizens, Aleh Hryshkawtsow and Andrey Burdyka. I appreciate the seriousness of the crime of which they were convicted and I feel deeply for all those who suffered as a consequence. It is the longstanding policy of the UK to oppose the death penalty in all circumstances as a matter of principle. I consider that its use undermines human dignity including of those ordered to carry out the execution, and there is no conclusive evidence of its deterrent value. Furthermore, any miscarriage of justice leading to the death penalty is of course irreversible and irreparable.
"I strongly urge Belarus to establish a formal moratorium on executions as a first step towards abolition of the death penalty, and to join with its European partners in establishing a death penalty-free zone across the whole of Europe. A moratorium would open up the route to eventual membership of the Council of Europe and encourage the integration of Belarus into the international community."
Published 29 July 2011