Foreign Office Minister congratulates new Libyan Prime Minister
Minister for the Middle East and North Africa Alistair Burt spoke after Dr Mustafa Abu Shagar was elected by the Libyan General National Congress as the new Prime Minister.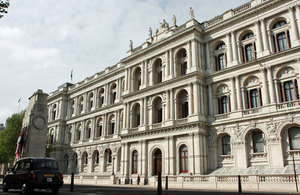 He said:
"I congratulate Dr Abu Shagur on his election as Libya's new Prime Minister. Through his long and active opposition to Qadhafi's regime, and his tireless work over the past months for the Transitional Government as first Deputy Prime Minister, Dr Abu Shagur has demonstrated his commitment to building a free, secure and prosperous Libya. The vote and democratic process which led to his election shows the Libyan people's determination to press ahead with political transition.
"As Tuesday evening's appalling attack on the US Consulate in Benghazi shows, the new Libyan Prime Minister faces a number of urgent and difficult challenges as the country looks to rebuild. The UK will provide all the support and assistance it can to Libya in its efforts to build a secure and prosperous future based on tolerance and freedom from violence."
Published 13 September 2012