Press release
Foreign Office Minister condemns violence in Egypt
Minister for the Middle East Tobias Ellwood condemns terrorist attacks and force used against protestors in Egypt.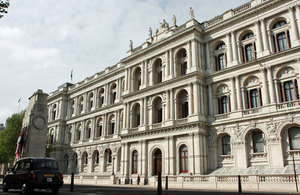 The Foreign Office Minister Tobias Ellwood said:
I deplore the deaths in Egypt in recent days. The UK condemns the acts of terrorism and stands by Egypt in the fight against terrorism. We are also deeply concerned by the use of deadly force by the police against demonstrators. Egypt's long-term stability and success requires protection of the rights that underpin peaceful politics, including accountability of the security forces and revision of the demonstrations law.
Further information
Follow Foreign Office Minister Tobias Ellwood on twitter @TobiasEllwoodMP
Follow the Foreign Office on twitter @foreignoffice
Follow the Foreign Office on facebook and Google+
Published 26 January 2015