Press release
Foreign Office Minister condemns terrorist attacks in Baghdad
Alistair Burt: Terrorism has no place in Iraq's future. UK will continue to support those building a democratic, stable & prosperous Iraq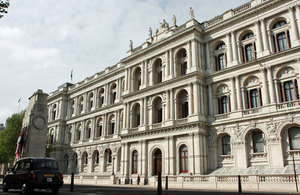 Speaking after a series of bombings in the Iraqi capital, Foreign Office Minister Alistair Burt said:
I am deeply saddened by yesterday's terrorist attacks in Baghdad, which indiscriminately killed and injured dozens of civilians, including young children. The British Government utterly condemns these attacks, which follow a number of horrific incidents across Iraq in recent weeks.

Terrorism has no place in Iraq's future. All parties in Iraq should stand united against it. Last week I spoke to Foreign Minister Zebari to discuss the latest events and to offer my condolences for the recent violence.

It is important that alongside tackling terrorism, the Government of Iraq engages in genuine political dialogue that can address legitimate grievances, to prevent extremists from exploiting tensions within the country. The UK will continue to support Iraqis' efforts to build a country that is democratic, stable and prosperous.
Further information
Follow Foreign Office Minister Alistair Burt on twitter @AlistairBurtFCO
Follow the Foreign Office on twitter @foreignoffice
Follow the Foreign Office on facebook and Google+
Subscribe to the announcements feed or email alerts to get our latest news and announcements
Published 28 May 2013