Foreign Office Minister condemns "sickening attacks" in Pakistan
Following bomb attacks on 2 mosques in Pakistan, Foreign Office Minister for Pakistan Alistair Burt has made a statement.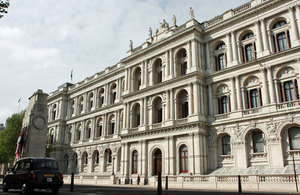 "I condemn today's sickening attacks in the North-West of Pakistan in which many innocent lives have been taken. My thoughts go out to the victims' families and friends.
The UK will continue to work together with the Government of Pakistan to tackle the threat of violent extremism."
Published 5 November 2010