Press release
Foreign Office Minister condemns settler violence
Foreign Office Minister Alistair Burt condemns settler violence in Israel and the Occupied Palestinian Territories.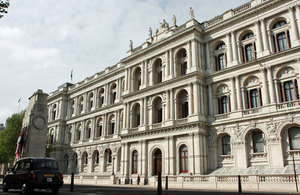 Commenting on recent reports of settler violence in Israel, the West Bank and East Jerusalem, Foreign Office Minister for the Middle East, Alistair Burt, said:
I condemn the "price tag" attack in the Arab Israeli village of Abu Ghosh on 18 June. The racist graffiti and vandalising of property in Abu Ghosh follows a series of similarly appalling incidents in Israel and the Occupied Palestinian Territories, reportedly carried out by extremist settlers. Settler violence is an abhorrent phenomenon which must be tackled firmly.

I welcome the widespread condemnation of these attacks in Israel and the Israeli Government's stated intention to bring those responsible to justice. We are discussing progress in prosecuting the perpetrators of such attacks and the need for decisive action during the visit this week of the Israeli Attorney General Yehuda Weinstein.
Further information
Read about how the UK is working for peace and long-term stability in the Middle East and North Africa
Follow the Foreign Office on twitter @foreignoffice
Follow the Foreign Office on facebook and Google+
Subscribe to the announcements feed or email alerts to get our latest news and announcements
Published 21 June 2013