Foreign Office Minister condemns killing of Abdel Fattah Younis
Minister for the Middle East and North Africa Alistair Burt has condemned the killing of National Transitional Council Military Commander General Abdel Fattah Younis.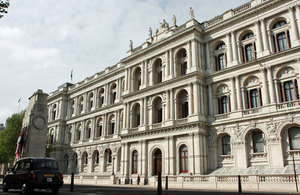 On hearing the news of his death, the Minister for the Middle East said:
"I condemn the killing of Abdel Fattah Younis. I have spoken to Chairman Abd Al-Jalil this morning and passed my sincere condolences to him and the NTC leadership."
"Exactly what happened remains unclear. I welcome Chairman Abd Al-Jalil's statement yesterday that the killing will be thoroughly investigated, and he reiterated this to me during our conversation. We agreed that it is important that those responsible are held to account through proper judicial processes."
The General, a former Libyan Interior Minister, joined the National Transitional Council in February at the beginning of the uprising against Qadhafi.
Published 29 July 2011