Foreign Office Minister condemns Kabul attack
Minister for the Middle East Alistair Burt has condemned the "despicable" attack on the British Council Building in Kabul on 19 August.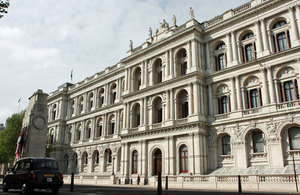 "I condemn this despicable attack on the British Council building in Kabul earlier today. My thoughts are with those killed and injured and their families and friends, including locals working to protect the British Council building. It is a sad fact that once again an attack aimed at the international community has killed Afghans.
"I can confirm that all British nationals affected are now safe. It is due to the presence of mind of the staff involved and our good security measures that no British nationals were hurt.
"This attack, against people working to help build a better future for Afghanistan, will not lessen the UK's resolve to support the Afghan people."
Prime Minister David Cameron has also condemned the "vicious and cowardly" attack
He confirmed that all British Council staff are now safe but said there had been a "tragic loss of life" among the Afghan police and others involved.
The Prime Minister said he had spoken to the New Zealand Prime Minister today to thank him for the role the country's special forces had played in defending the compound.
Mr Cameron also stressed that the attack would not halt the "vital work" being carried out in Afghanistan.
"This is a particularly vicious and cowardly attack but it's an attack that hasn't succeeded.
"It will not stop the British Council and indeed our whole effort in Afghanistan to bring stability and peace to that country."
Martin Davidson, chief executive of the British Council, said the attack on its Kabul office "must not and will not" prevent it from giving young Afghans the support they need.
Published 19 August 2011