Press release
Foreign Office Minister condemns brutal attacks in Iraq
Foreign Office Minister, Hugo Swire calls upon Iraqi leaders to put aside their differences and work together to stop terrorism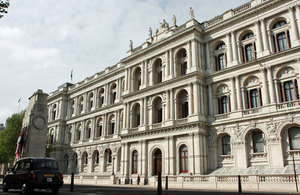 Speaking today after reports of a series of coordinated bombings in Iraq, Foreign Office Minister Hugo Swire said:
I utterly condemn the brutal attacks that took place across Iraq this morning which killed and injured many innocent people. These were criminal acts, against the interests of all Iraqis. They are even more shocking during Ramadan, a time of peace and reflection. I offer my deepest condolences to the families that have lost loved ones and to those injured in the attacks.

I urge the Iraqi government to take all necessary steps to bring those responsible to justice, and call upon all political and religious leaders in Iraq to put aside their differences and work together to stop terrorism.
Further information
Visit the UK and Iraq website pages
Follow the Foreign Office on twitter @foreignoffice
Follow the Foreign Office on facebook and Google+
Subscribe to the announcements feed or email alerts to get our latest news and announcements.
Published 29 July 2013