Foreign Office Minister concerned at sentencing of Iranian lawyer
Foreign Office Minister Alistair Burt has called on the Iranian Government to overturn the sentencing of Mohammad Ali Dadkha.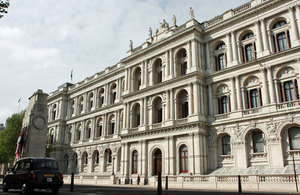 He said:
"I am concerned by reports of the sentencing of Iranian lawyer Mohammad Ali Dadkhah to nine years in prison. Dadkhah appears to have been targeted because of his efforts to defend the rights of political and human rights activists in Iran, including Pastor Youcef Nadarkhani who was sentenced to death in 2010 for apostasy. The UK has already called for Pastor Nadarkhani's sentence to be overturned. Recent reports that two Iranians were arrested in Tehran in April for observing the Christian faith only add to our concern about the appalling human rights record of the Iranian Government.
"These cases are an all too frequent reminder that Iran continues to repress its own citizens' rights to freedom of expression and religion. I call on the Iranian Government to overturn both Dadkhah and Pastor Nadarkhani's unjust sentences and stop the harassment of individuals on the basis of their religious beliefs."
Published 10 May 2012