Foreign Office Minister comments on Tunisian election results
Minister for the Middle East and North Africa Alistair Burt has congratulated all those involved in the Tunisian elections, which were held 10 months after the fall of the Ben Ali regime.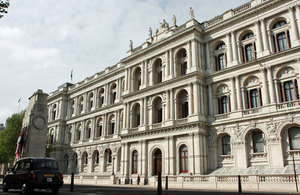 Speaking today he said:
"It is a credit to Tunisia that the country has held free elections, just 10 months after the fall of the Ben Ali regime. I congratulate all those involved: the electoral authorities, who worked to an extremely tight timetable to deliver the election; the thousands of domestic observers, who helped to ensure the transparent nature of the poll; and the millions of ordinary Tunisians who have made their voices heard. It is important that anyone who has concerns about the process uses the official channels open to them to voice those concerns and works with the electoral authorities to find a peaceful resolution.
"The newly elected Constituent Assembly faces fresh challenges, in particular the drafting of a new constitution. I hope that the Assembly will undertake this work in the same positive atmosphere that has characterised the past months. It is important that they fulfil the aspirations of the Tunisian people by respecting the principles of democracy, pluralism, rule of law and human rights.
"The UK looks forward to working closely with a new government, when one is formed. Through the Arab Partnership, the UK is already supporting Tunisian efforts to build a more open, fair and democratic society. We are working with partners to strengthen transparency and accountability in public institutions, provide British technical expertise on parliamentary structures and political parties, and help strengthen freedom of expression. We will look to expand this work further over the coming year."
Published 28 October 2011