Foreign Office Minister comments on the ongoing violence in Syria
"I again call on the Government of Syria to meet all its human rights obligations and uphold political freedoms, equal access to justice and the rule of law" said Foreign Office Minister Alistair Burt.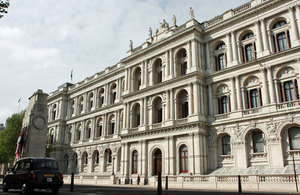 The Minister for the Middle East said:
"I condemn the killing of more civilians in Syria. Yet again the Syrian government has shown an abhorrent disregard for human life as ordinary Syrians took to the streets today in memory of the innocent children who have died during the unrest, including 13-year old Hamza Khateeb whose death has shocked people worldwide. The handling of Hamza's death is further evidence of the Syrian authorities' callous and brutal repression of innocent protestors. This has only increased instability and tensions in Syria.
We note President Assad's announcement on a general amnesty for political groups and the establishment a commission to prepare a national dialogue. But these need to be followed by practical actions if they are to be credible and lead to substantive reform. It is also critical that Syria's security forces stop using violence against peaceful protestors, release all human rights activists, and respect the opposition's right to peaceful protest. I again call on the Government of Syria to meet all its human rights obligations and uphold political freedoms, equal access to justice and the rule of law"
Published 3 June 2011