Foreign Office Minister comments on sentencing of metro bomb suspects in Belarus
Minister for Europe David Lidington calls on the authorities of Belarus to commute these sentences immediately and to establish a formal moratorium with a view to abolition of the death penalty.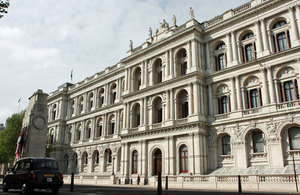 Foreign Office Minister, David Lidington said:
"The UK deplores the deaths and injuries suffered by Belarusian citizens as a result of the bombing of the Minsk Metro on 11 April and wants to see those responsible brought to justice. However, reports from a range of independent human rights organisations raise questions about the standard of evidence provided and the conduct of the trial which resulted in the sentencing to death of Dzmitry Kanavalaw and Uladzislaw Kavalyow, on 30 November.
"It is the longstanding policy of the UK to oppose the death penalty in all circumstances as a matter of principle. The application of the death penalty is of particularly grave concern when there are strong doubts as to whether it is being carried out in accordance with international minimum standards. These state that the trial must be fair and the guilt of the person charged based on clear and convincing evidence, leaving no room for an alternative explanation of the facts. I am also concerned that the two men appear to have no right of appeal against the judgement. I call on the authorities of Belarus to commute these sentences immediately and to establish a formal moratorium with a view to abolition of the death penalty. This would bring Belarus into line with other European states, none of which apply the death penalty."
Published 2 December 2011