Foreign Office Minister commends constructive talks with China
Foreign Office Minister Jeremy Browne met influential figures and supported British business interests in a week long trip to China.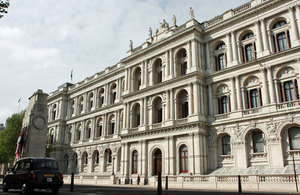 The Foreign Office Minister visited Beijing, Chongqing, Chengdu, Yaan and Shanghai in a tour which aimed at improving the UK's relationship with China, strengthening trade ties and covering the wide range of political and bilateral issues on which China and the UK work together.
The Foreign Office Minister said:
"China is one of our key strategic partners. We have made our extra commitment clear by allocating fifty new staff to work in China, and by creating a new Consulate.
"Last year our two leaders committed to increase bilateral trade to $100 billion by 2015. Now we are taking our engagement further, working together on climate change, education and industry.
"I have also used this visit to highlight what the UK has to offer ahead of the Olympic Games next year. I want to demonstrate the range of investment opportunities available, and show that the UK is one of the very best places in the world to visit, live, work, study and do business."
Beginning in Beijing he met Foreign Vice Minister Fu Ying and discussed the overall UK-China relationship and foreign policy issues. He also met the All China Youth Federation. Mr Browne then went on to Chongqing where he test-drove a new, alternative energy car at the ChangAn Automobile site.
UK business is currently engaged in a wide spectrum of areas in Chongqing, including energy, the environment, infrastructure and education. The Minister welcomed the investment China has made in the UK through ChangAn in particular, which has an established research centre in Nottingham.
He also met Party Secretary Bo Xilai, with whom he discussed issues including trade, inward investment, and China's continuing development.
In Yaan the Minister bade farewell to Tian Tian and Yangguang, the two pandas about to depart for Edinburgh Zoo where they will be for two years as part of a strong working relationship between the Zoo and its Chinese counterparts.
He finished his visit in Shanghai, where he met with Feng Guogin of the Chinese People's Political Consultative Conference (CPPCC). This meeting was used to discuss China's Olympic success and to identify areas where China could share expertise ahead of London 2012.
He then gave a speech at Fudan, Shanghai's top university, as part of UK-China Law and Justice Week. This marked the official launch of the DVD of last year's "Moot Court" event at the UK Expo Pavilion, which received 45,000 visitors per day from 30 April to 31 October 2010.
Published 18 November 2011