Foreign Office Minister calls on Iran to release opposition politicians
Minister for the Middle East Alistair Burt has condemned the continued detention of opposition politicians in Iran.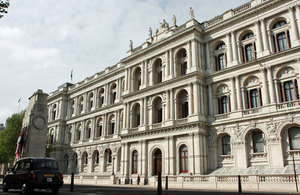 Speaking today the Foreign Office Minister said:
"I condemn Iran's continued detention of opposition politicians Mirhossein Mousavi and Mehdi Karroubi. They have now been held for over 100 days and claims that this is for their own safety have no credibility. Mr Mousavi, Mr Karroubi and their wives have not been allowed to communicate with the outside world or to see and speak to their children. This is nothing more than an crude, cruel and illegal attempt to silence opposition by any means.
As the Foreign Secretary said on 1 March, this is a flagrant breach of Iran's human rights obligations and shamelessly hypocritical given Iran's claim to support freedoms and human rights elsewhere in the region. A number of prominent figures and clergy in Iran have also called again for their release in the last few days. I again call on Iran to release Mr Mousavi and Mr Karroubi immediately, and respect their rights under Iranian and international law to freedom of association and freedom of expression."
Published 27 May 2011