Foreign Office Minister calls for more UK trade with East Asia
Foreign Office Minister Hugo Swire praised the progress made by British business throughout East Asia and pledged continued Government support for increased trade with the region.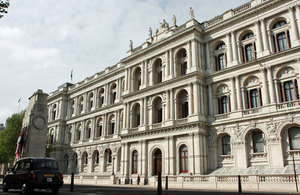 The Minister spoke at a Seminar on Business Opportunities in East Asia, organised by the Hong Kong Economic & Trade Office (ETO) and Worshipful Company of World Traders, and encouraged British businesses to trade more with the likes of Japan, China, Hong Kong and South Korea.
He said:
"British firms and British expertise have real influence and impact in Asia, in many cases built up over many years.
"But this is a growing region and one of increasing significance. We must keep up the momentum, encouraging more and more people to look at opportunities available for their businesses. The Government is committed to supporting this. As Minister responsible for our relations with Asia at the Foreign and Commonwealth Office, I will be working in support of this aim."
The Minister also spoke about how the Government's focus had changed in order to prioritise trade and prosperity, with an increasing emphasis on new markets in the face of relative economic slowdown in Europe.
Multilateral trade settlements such as the EU-South Korea Free Trade Agreement are already bearing fruit for UK businesses and the proposed EU-Japan Economic Partnership Agreement is set to increase UK-Asia trade links even further.
UK Trade & Investment helped over 3,000 UK firms to do business in China alone last year, including assisting B.R.E. to win construction contracts for the Beijing Green Building Park.
In the UK itself, the Olympics provided a shop window for everything that is GREAT about Britain to overseas investors. The FCO is doing all it can to build on that positive image and to help businesses make the most of every opportunity - in East Asia and beyond.
Published 13 September 2012