Foreign Office Minister begins visit to Asia to promote British interests
Foreign Office Minister Jeremy Browne begins a week's programme in Asia today to promote the UK as a trusted partner and to help develop and intensify the UK's trade relations.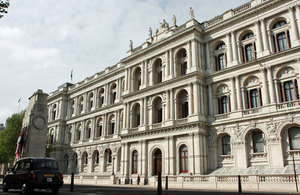 Visiting Japan, South Korea and China, Minister Browne will showcase Britain's role as a global leader in education, champion British companies and promote the UK as a place to do business.
Mr Browne said:
"Building on the Prime Minister's recent visit to the region, I am looking forward to consolidating the ties he developed and working for better cooperation in business, education and international security.
"I am pleased to be returning to Japan, China and South Korea, countries that are growing in influence and have an increasingly important role to play in global debate. The meetings I have here will inform the way the UK works with some of our key partners in the region and give the opportunity to show what we have to offer in 2012 and beyond."
In Japan, Mr Browne will meet major British companies to hear the benefits and difficulties of starting up in foreign markets and discuss the role of the UK Government in improving trade relations in Asia.
Moving to South Korea, the Minister will give a speech at the Korea University in Seoul on the pivotal role the country has to play in global security. As Britain puts the final touches to its Olympic preparations, Mr Browne will then take part in an 'Olympic Truce' football match between South Korean students and new North Korean settlers who have been accepted into communities over the disputed border.
Mr Browne will also visit the Institute for Basic Sciences (IBS), a $3 billion facility aimed at improving Korea's scientific research, to see firsthand the results of UK-Korean co-operation in this important field.
In both Japan and China the Minister will highlight the UK's support for the rule of law and human rights. In Japan this will involve meeting members of the Parliamentary League Against the Death Penalty. The Minister will emphasise the UK's support for the work of the League and discuss the ways the UK could provide assistance.
In China, Mr Browne will talk about opportunities for cooperation on the rule of law and criminal justice reform. In meetings with both Ministers and external organisations he will highlight the UK's belief in universal human rights and examine how UK expertise could contribute to discussions on reform.
Published 13 May 2012