Foreign Office Minister attends Libya Contact Group in Abu Dhabi
Minister for the Middle East and North Africa Alistair Burt will attend the Libya Contact Group meeting in Abu Dhabi on 9 June.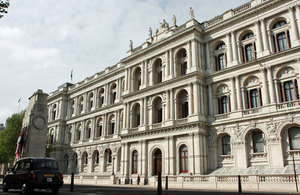 Speaking ahead of the meeting Foreign Office Minister Alistair Burt said:
"Through a process set in train by the London Conference, the Contact Group is coming together month after month to consider what needs to be done to enable the people of Libya to build a society where their legitimate needs and aspirations can be met.
"The meeting will reaffirm the international community's unity, resolve and determination to implement in full UNSCRs 1970 and 1973. It will discuss in detail with the Libyan National Transitional Council its vision for a plural, open Libya that respects the rule of law and human rights and a political process to help achieve this. The Contact Group will also be briefed by the International Stabilisation Response Team which is helping the NTC to plan for post-conflict reconstruction in Libya in close conjunction with the UN. The meeting will also hear from the UN Special Envoy Al Khatib and his efforts to build a political transition.
"This is vital work and part of ensuring a comprehensive strategic and joined-up approach to Libya.
"The Contact Group will also reiterate the unequivocal message from the Rome meeting: that Qadhafi, his family and his regime have lost all legitimacy and must go so that the Libyan people can determine their own future. Until Qadhafi does so, the pressure will increase across the board: economically, politically and militarily. His regime is already crumbling with an increasing number of defections, including from his senior military command. It is just a matter of time before the mounting pressure takes its toll and Qadhafi has no alternative but to leave."
Published 9 June 2011