News story
Foreign Office Minister attends inauguration of President of Republic of Korea
Foreign Office Minister Hugo Swire concluded his three-day visit to Korea today with a meeting with President Park Geun-Hye.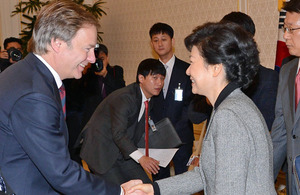 President Park was inaugurated as the Republic of Korea's 18th President on Monday morning. Hugo Swire joined visiting dignitaries from more than 20 countries at the ceremony. Traditional Korean performers were joined by South Korean singer Psy at the colourful event.
This was Hugo Swire's second trip to Korea in less than six months. During the visit, he also met heads of other foreign delegations to the President's inauguration, executives from Korean business, and members of the National Assembly.
Commenting on the visit Hugo Swire said:
I'm delighted I was able to meet President Park and witness her historic inauguration. The UK and Korea celebrate 130 years of diplomatic relations this year and I will be doing all I can to help deepen the tremendous ties that exist between our two countries.
Further Information
British Embassy in Seoul website
Follow Hugo Swire on twitter @HugoSwire
Published 26 February 2013