Foreign Office Minister announces £3 million funding towards demining in Sri Lanka
Foreign Office Minister Alistair Burt announced the funding for demining in a meeting with the Sri Lankan Minister for Economic Development, Hon. Basil Rajapakse at the Presidential Secretariat today.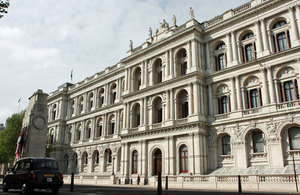 During the meeting, the two Ministers discussed trade and investment ties between Sri Lanka and the UK, as well as Sri Lanka's progress in development. Foreign Office Minister Alistair Burt emphasised the British Government's commitment towards Sri Lanka, stating that a key part of his visit would be promoting bilateral trade between the two countries. The UK is the second highest investor in Sri Lanka, with many British companies represented in the country, spanning sectors such as education, construction and financial services. A number of Sri Lankan companies are also successfully doing business with the UK.
The Foreign Office Minister also announced that the British High Commission (BHC) in Colombo would be launching websites in Sinhala and Tamil languages later in the day, which, along with the existing English language website, would cater to the Sri Lankan population. The websites will contain information on key aspects of the BHC's work in Sri Lanka, including visa information and updated news releases. Minister Alistair Burt is the Foreign and Commonwealth Office Minister for South Asia and is currently in Sri Lanka for a two-day visit. This is the first Ministerial visit to Sri Lanka by the UK Coalition Government.
Published 21 February 2011