Press release
Foreign Office marks International Human Rights Day 2015
The FCO sets out the central importance of human rights in its work and its pledge for re-election to the UN Human Rights Council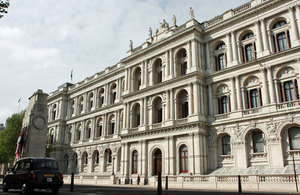 10 December marks UN Human Rights Day, where every year we celebrate that the Universal Declaration of Human Rights is the common standard to which every country must aspire.
The Minister for Human Rights, Baroness Anelay, hosted an event at the FCO on the eve of Human Rights Day. During the event the Baroness discussed the Government's approach to human rights and set out the UK's pledge for re-election to the UN Human Rights Council. You can read her speech here. She was joined on the stage by the UK's Permanent Representative to the UN in Geneva, Julian Braithwaite; the CEO of Christian Solidarity Worldwide, Mervyn Thomas; and Head of Policy at Womankind Worldwide, Claire Hickson.
Speaking at the event the Baroness said:
The UK recognises the importance of universal human rights. We are firmly committed to standing up for these rights and values and are doing so in many ways around the world. We make the point to our international partners that human rights are vital to the success of any society.
The Foreign Secretary Philip Hammond also wrote an article on Human Rights day, outlining how the UK Government is working to support and defend international human rights. You can read his article here. FCO Ministers marked Human Rights Day by issuing blogs discussing how they are supporting human rights in their work.
Further information
Published 10 December 2015