Foreign Office launches conflict minerals information for businesses
Minister for Africa Henry Bellingham launched guidance for businesses dealing in the four minerals commonly known as conflict minerals - Cassiterite, Coltan, Wolframite and Gold.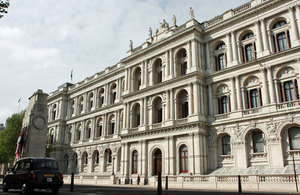 These minerals have a range of industry uses, including as components in electronic products, such as mobile phones, DVD players, and computers. However, because of their value, these minerals are often mined in conditions of armed conflict where human rights abuses take place.
Read more about Conflict minerals on GOV.UK.
Minister for Africa Henry Bellingham MP said:
"Conflict minerals have already shown that they have the power to destroy lives. While we all want to see British business prosper, we also want to see companies respecting agreed international standards of corporate social responsibility.
The new pages on the Foreign Office website are designed to help companies trading in minerals, originating in conflict-affected areas identify the different guidelines and regulation that may apply to them and where to find further information.
This government supports efforts to strengthen corporate social responsibility and plays a leading role championing best practice and voluntary initiatives designed to help companies perform responsibly overseas."
The Foreign Office is hosting a trade event today which brings together global experts on business, human rights, conflict and natural resources. This Foreign Office initiative is about helping businesses who source and trade these important minerals do so in a way that fully adheres to international legislation, regulation and guidance and avoids contributing to armed conflict or human rights abuses.
Experts and participants include representatives from Governments, NGOs, business and other international organisations, who will be available to provide advice and expertise to British business. There will be a particular emphasis on ensuring ethical and legal trading.
This event is another example of Her Majesty's Government work to develop innovative ways to provide practical support to UK business overseas.
Published 29 March 2011