Press release
Foreign Office expresses concern over conduct of Russian Duma elections
The Foreign Office sets out concern over civil society freedoms in Russia after an OSCE report on the Russian Duma elections.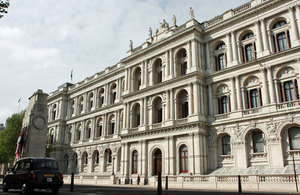 Russian State Duma elections were held on 18 September. The Organisation for Security and Co-operation in Europe (OSCE) International Election Observation Mission suggests significant challenges to democracy and individual freedoms.
An FCO spokesperson said:
We welcome the OSCE report on the conduct of the Russian Duma elections. The report concludes that although the elections were 'transparently administered by the Central Election Commission', democratic commitments continue to be challenged and there were numerous procedural irregularities. The OSCE reports that 'the electoral environment was negatively affected by restrictions to fundamental freedoms and political rights, firmly controlled media and a tightening grip on civil society.' We share these concerns about human rights in Russia. A free and vibrant civil society is crucial for democracy.
The OSCE did not monitor the election process in Crimea. The UK does not recognise the legitimacy of Duma elections in Crimea. The annexation of Crimea by Russia in March 2014 was illegal and illegitimate, and remains so to this day.
Follow the Foreign Office on Facebook & Twitter.
Follow the Foreign Office on Instagram, YouTube and LinkedIn  
Published 19 September 2016