News story
Foreign Office condemns co-ordinated arrest of journalists in Iran
Foreign Office Minister Alistair Burt condemns multiple arrests of journalists in Iran for co-operation with western media.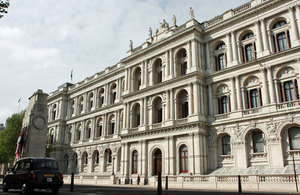 Iranian security forces arrested more than a dozen journalists on 26, 27 and 28 January. Official Iranian media have reported that the journalists were arrested for "co-operation with western media." The arrests were co-ordinated, with reports that five publications in Tehran were simultaneously raided.
Reacting to reports of the arrests, which have taken place as Iran prepares for its Presidential elections, Foreign Office Minister for the Middle East, Alistair Burt said:
I am deeply concerned by reports that a large number of journalists have been arrested in Iran simply for having contacts with foreign journalists. These targeted arrests are part of a deliberate attempt by the Iranian authorities to clamp down on freedom of speech and independent voices in the country.
I have repeatedly expressed concerns about the Iranian regime's treatment of journalists and independent media. And the UK has long-standing concerns about the judicial and detention process in Iran, and the regime's use of spurious charges against its own citizens. I call on the Iranian government to release all of the journalists it has wrongly arrested, and to stop its campaign of intimidation and harassment against independent voices in Iran.
Published 29 January 2013