Foreign Office calls in Syrian ambassador
Foreign Office Political Director Sir Geoffrey Adams called on Syria to stop the killing of innocent protestors immediately and to release all political prisoners.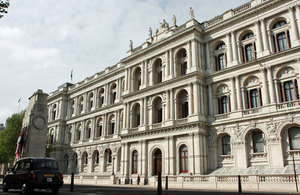 "On 13 May, FCO Political Director Sir Geoffrey Adams called in the Syrian Ambassador Dr Sami Khiyami to the Foreign Office to express the UK's strong concerns about the ongoing situation in Syria.
"Sir Geoffrey emphasised the UK's profound concern about the Syrian government's violent repression of its own citizens, and called on the Syrian authorities to respect universal human rights, including freedom of expression. Sir Geoffrey also expressed concern about the continued denial of access of international media into Syria.
"The Political Director called on the Syrian Government to allow UN and other humanitarian organisations immediate and unhindered access to besieged Syrian cities, particularly the city of Deraa.
"Sir Geoffrey said that unless the Syrian government stopped the killing of protestors and released political prisoners, the UK along with its EU partners would take further measures to hold the regime to account. These measures would include further sanctions targeted at the highest levels of the regime, including travel bans and asset freezing."
Published 13 May 2011