Foreign Office bloggers support freedom of speech
Foreign Office bloggers including Minister for Europe David Lidington have spoken about the importance of free speech following the sentencing of a popular Iranian blogger this week.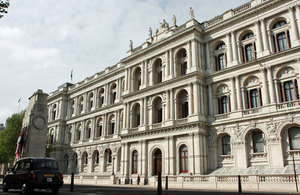 Hossein Derakhshan was sentenced to 19 and a half years in prison in Iran on 27 September and fined €30,000 for exercising his right to express his opinions. His sentence has been widely condemned by human rights organisations including Reporters sans Frontieres and Index on Censorship.
Foreign Office Minister David Lidington recorded a video blog on the issue in which he said the treatment of Derakhshan "insults the values of millions of citizens in Iran."
Writing on his blog, British Ambassador to Jordan James Watt said of the arrest:
"For all of us who are hooked on reading and writing blogs, the injustice feels all the more painful. We know how much it matters for ordinary people to express their opinions through their blogs, in the face of censorship, distortion or plain ignorance. If what is written has no merit, people won't read it. But if you are writing things that command wide acceptance, sympathy and support, you will get a massive readership - as Derakhshan has. That's the pure democracy of blogging."
Ambassador to Ukraine Leigh Turner added on his blog: "This kind of shocking action against a blogger is a reminder of why all governments need to respect freedom of the media and be ultra-cautious about any actions which constrain, or which could be seen to constrain, freedom of expression."
British Ambassador to the Philippines Stephen Lillie drew parallels to the situation faced by journalists in the capital, Manila: "All of us who live and work in the Philippines are aware of the cases of criminal violence against reporters and media figures that are still all too prevalent in this country. But I want to highlight Hossein Derakhshan's case, because of what it says about a government attempting to quash any form of opposition and to restrict the freedom of everyday citizens."
Find out who else is blogging for the Foreign Office at www.blogs.fco.gov.uk
Published 1 October 2010