Foreign Minister for Bosnia and Herzegovina visits UK
Foreign Secretary William Hague spoke following his meeting with Minister of Foreign Affairs of Bosnia and Herzegovina Zlatko Lagumdzija in London on 27 March.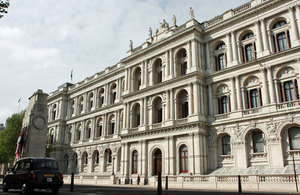 Rt Hon William Hague and Minister Zlatko Lagumdzija
Speaking today the Foreign Secretary said:
"I am delighted to welcome Foreign Minister Lagumdzija here to London on his first official visit outside of the Western Balkans in his new role.
The United Kingdom and Bosnia and Herzegovina share a close and constructive relationship. The UK is among the strongest supporters of Bosnia and Herzegovina's Euro-Atlantic future.
Minister Lagumdzija and I have talked about the encouraging political progress that has been made in Bosnia and Herzegovina in recent weeks and how to turn recent progress into a steadfast progress towards the EU and NATO. There is a lot to be done, but there is a lot of good will towards Bosnia and Herzegovina and we are ready to offer our support. Bosnian citizens deserve better future.
We have also discussed the challenges that Bosnia and Herzegovina is facing today. We agreed that urgent action is needed to implement the Sejdic-Finci ruling, and to fulfil the recent political agreement on the registration of Defence Properties.
There is a chink of light that 2012 could be a year of change and progress Bosnia and Herzegovina. I am encouraged in this respect by the actions taken so far by the new government and by my discussion with Minister Lagumdzija today. This needs to be built upon.
Like in any other democratic society, in Bosnia and Herzegovina people want better lives, jobs, prosperity and progress. Her political leaders need to respond to these aspirations and to continue to take decisions in the interests of all people in the country, the United Kingdom will do all it can to support them.
As one demonstration of our support, I am pleased to announce the UK will increase significantly its troop contribution to EUFOR Operation Althea, the EU-led peacekeeping mission in Bosnia and Herzegovina as an insurance against any challenge to the country's peace and security and an important safeguard underpinning stability in Bosnia and Herzegovina and thus enabling continued progress."
Published 27 March 2012