Press release
For the first time ever, Susie Lind talks about her rescue through the Kindertransport
Saved from Nazis in World War 2 by Sir Nicholas Winton, Susie Lind shared her testimony with the UK Holocaust Memorial Foundation.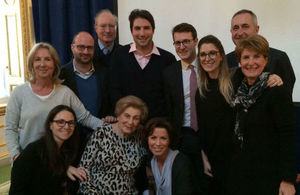 Susie Lind, who was rescued from the Nazis by Sir Nicholas Winton's Kindertransport, spoke about her experiences for the first time in almost 80 years. Ms Lind contributed to the BBC One documentary programme 'Children Saved from the Nazis: The Story of Sir Nicholas Winton'. The programme celebrates the life and work of Sir Nicholas Winton on Holocaust Memorial Day in partnership with the UK Holocaust Memorial Foundation.
Ms Lind, who boarded one of the last Kindertransports aged 14 from Prague, gave her testimony for the first time in an interview with Natasha Kaplinsky. She did this as part of Prime Minister David Cameron's urgent project to finish recording the testimony of Britain's Holocaust survivors and concentration camp liberators, to faithfully preserve their memories for future generations.
Part of the interview has been included in the documentary which features a number of 'Nicky's Children' describing how they owe their lives to Sir Nicholas Winton. Sir Nicholas helped 669 children escape the Nazis by bringing them to safety on Kindertransports to Britain in 1938.The documentary, directed by Matej Minac, was made in association with Czech and Slovak Television, and updated for BBC. It will be on BBC One on Holocaust Memorial Day, 27 January, at 10:45pm.
Susie Lind said:
"My mother saw me off on the Kindertransport from Prague and she took a handkerchief out of her bag in order to wipe my tears at our goodbyes. I knew I would never see my parents again. I have kept this handkerchief newly laundered ever since.
I am glad that I have shared my stories for the sake of being recorded for posterity. Sadly, I don't think the world has learnt lessons from the past. Everybody has to learn to live with everybody else regardless of creed or religion.
Natasha Kaplinsky, board member of UK Holocaust Memorial Foundation, who is leading the urgent testimony project said:
Susie's story reminds us of the shocking fact that hundreds more children may have lost their lives if it wasn't for Sir Nicholas Winton's bravery and hard work.

Our country should be so proud of Sir Nicholas Winton. In the darkest moments of our history he showed how the best of humanity can still shine through. When I met him on his birthday last year I was struck by his incredible modesty. No matter how many years have passed, it's vital that we still celebrate the life and work of this great man, whilst remembering the atrocities of the Holocaust and the stories of those he saved. Our work to capture testimony with Holocaust survivors who have not yet spoken is a vital part of making sure the UK can fulfil its promise to remember the Holocaust.
Share your testimony
Are you a Holocaust survivor or concentration camp liberator? Contact us to share your story.
Alternatively survivors or those who know of survivors wishing to take part in our testimony project can email ukhmf@cabinetoffice.gov.uk or write to:
The UK Holocaust Memorial Foundation
PO Box 72270
London SW1P 9WU

Published 27 January 2016