Football League pledges support to Sports Charter
Home Secretary Theresa May was at the League Cup final to see the Football League become the latest backer of a government drive to stamp out homophobia and transphobia in sport.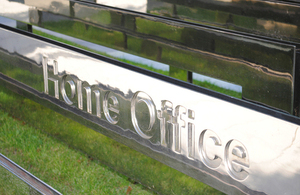 The Football League, which represents 72 clubs in England and Wales, signed the Home Office Sports Charter at the Carling Cup final between Liverpool and Cardiff on Sunday.
It means that one of the most important and oldest leagues in the world has committed to tackling discrimination both on the pitch and in the stands.
 
Theresa May was joined by Chairman of the Football League Greg Clarke, as well as non-executive director of Middlesbrough Keith Lamb and director at Tranmere Rovers Lorraine Rogers.  
Home Secretary Theresa May said: 'Football has a hugely important part to play in stamping out discrimination and intolerance. That's why I'm so pleased the Football League - the largest league of professional clubs in Europe - has signed the government's Sports Charter on behalf of all the clubs in their leagues.
'We now have all 92 professional league teams signed up. This means our campaign to tackle homophobia and transphobia will reach even more communities and spread the message that playing and watching the beautiful game should be open to everyone.'
Greg Clarke said: 'I'm delighted that Football League clubs have committed to tackle homophobia and transphobia in this way.  Football League clubs are at the heart of local communities across the country and football has the power to change behaviour within our society. 
'Everybody should be able to play, watch and enjoy sport regardless of their background, The Football League and our clubs will continue to play our part in promoting equality and diversity in English and Welsh football.'
Sports Charter
The Football League's signing follows all 20 Premier League clubs pledging their support for the charter on 2 February. All signatories will now work with the FA, Football League and other partners to take forward the commitments in the charter.
Since the charter launched in March 2011, more than 3,000 individuals and organisations have signed up. Supporters include Ben Cohen, Stephen Fry, David Furnish, Billie Jean King and Martina Navratilova.
And last week following a Downing Street roundtable the Football Association added its weight to tackling transphobia and homophobia by launching a four-year plan to promote equality in football.
The plan commits the FA to taking action in six key areas to promote lesbian, gay, bisexual and transgender inclusion in football.
Published 28 February 2012