World news story
Food Is GREAT: British beef and lamb are back in Thailand after two decades of absence
From:

Part of:

Published:

15 October 2015
British Embassy Bangkok re-launches British beef and lamb on the Thai retail market after a 20-year absence.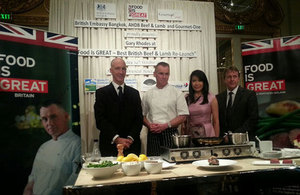 British Embassy Bangkok teamed up with Gourmet One Food Service to host a special event to re-launch British beef and lamb on the Thai retail market after a 20-year absence.
In celebrating the return of the British beef and lamb to the Thai market, Mark Kent, British Ambassador to Thailand, welcomed British celebrity Chef, Michelin-starred Gary Rhodes in an exclusive launch event. Media guests witnessed the world-class chef demonstrating his culinary skills by preparing on stage one of his best loved recipes using British beef.
British beef and lamb quality
Ambassador Kent and Chef Gary Rhodes explained how beef and lamb from the UK have a taste that is special and unique:
British beef remains the gold standard for high quality
4 centuries of tradition with famous breeds such as the Hereford, Shorthorn and Aberdeen Angus grass fed and processed to optimise the eating quality
British lamb is different from products currently available in Thailand due to modern genetics
lamb originates from grass fed younger animals which results in a mild, sweet and succulent meat
The enjoyment of British lamb and beef is enhanced as both are produced to highest levels of sustainability, environmental care and food safety.
Relaunch of British beef and lamb
Mark Kent, British Ambassador to Thailand said:
I am delighted that we are here to celebrate the return of British beef and lamb to Thai market after a long absence. This would not have been possible without the strong and sustained partnership between the UK and Thailand in the food industry and agriculture.

With its increasing demand and preference for quality food products, Thailand is an ever more attractive market for top quality British food exporters. We are grateful to our partners, Gourmet One and the Mandarin Oriental, for showcasing the best of British beef and lamb.

A special occasion demands a special touch. We are all delighted to welcome the legendary British chef, restaurateur, and author Gary Rhodes to Thailand. Chef Gary is the true Ambassador of the British Food Is GREAT campaign. His culinary talents and his expert insights have given us the chance to appreciate the finest points of quality and taste of British beef and lamb.
Gary Rhodes, British celebrity chef said:
The UK leads the way in culinary trends and is home to hundreds of Michelin star restaurants. Behind the success of any restaurant business lies the quality of the ingredients in the kitchen. British beef and lamb is produced to the highest standards and offers consumers a consistent and unique eating experience.

I am pleased to be part of the re-launch here today and to celebrate the quality of British beef through my very own recipe. With the return of British beef and lamb to Thailand, I am delighted that people can now enjoy a further addition of the highest quality to the wonderful eating experiences that Thailand offers.
Further information
About British beef
9.9 million cattle in the UK
97,000 cattle farms in the UK
50% of the beef comes from the beef herd and 50% from the dairy herd.
plentiful grass due to the wet climate; the top mountains of the Lake District have the highest rainfall in Europe
56% of the UK is covered with grass (9.725 m. ha)
cattle in the UK eat mostly grass and conserved forage
many breeds of cattle in the UK with early maturing native breeds including famous breeds like the Hereford, Aberdeen Angus, Red Devon, South Devon, Sussex, Galloway, Longhorn, Shorthorn and continental breeds such as Limousin, Charolais, Simmental, Belgium Blue, Salers and Blonde d'Aquitaine also present
long history of beef production and consumption in the UK which reached a peak at the beginning of the 18th century
Englishman, Robert Bakewell also 'invented' cattle genetics in the late 18th century
UK has by far the highest proportion of steer beef in Europe ('set', dark, marbled beef with a long flavour, highly suitable for dry-ageing)
UK produces around 900,000 tonnes of beef and is the third largest producer of beef in Europe
British processors apply many quality control points such as slow chilling, electrical stimulation, dry and wet ageing to optimise the eating quality of beef.
beef from quality cattle fed on grass and well finished, processed and matured with care tastes great, that's a fact.
About British lamb
31,000,000 sheep and 73,400 sheep farms in the UK. with parts of the UK having the highest sheep density in the world
British sheep farms are the largest and most profitable in Europe
56% of the UK is covered with grass due to the wet climate: the top mountains of the Lake District have the highest rainfall in Europe
sheep can live on eating grass alone so very little feed is given to lambs in the UK with none to ewes and rams
106 breeds of sheep in the UK: mountain breeds, wool breeds, meat breeds, park breeds, primitive breeds, female breeds, marsh breeds. One breeds eats only algae around its native island of North Ronaldsay whilst the Shropshire breed does not damage trees
some breeds have no horns, some 2 (of different shapes), some 4
black sheep, brown sheep of various hues and of course white sheep
UK accounts for 43% of the production of lamb and mutton commercialised in the European Union or 308,000 tonnes
40% of production is exported with main export markets in France, Belgium, Germany, Italy and China
British lamb tastes great, that's a fact
Contact: UK Trade & Investment Thailand
Document information
Published: 15 October 2015