News story
Focusing on the fundamentals
On the 65th birthday of the NHS, Mary Agnew reflects on the importance of getting the fundamentals of care right.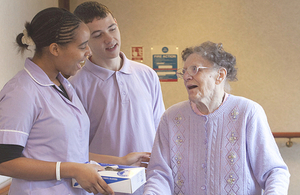 Mary Agnew, Deputy Director of the Department of Health Francis Implementation Team, sets out how people can contribute their views on the standards and on how we can get care right for vulnerable older people.
Robert Francis recommended a common set of fundamental standards in his final report. In this, her second blog, Mary discusses the importance of these basics of care in ensuring a service is safe, effective, caring, responsive and well led.
Mary also addresses the important role that organisation's boards have to play in delivering fundamental standards.
Published 5 July 2013