Flu vaccination programme extended to all children
Health Secretary Andrew Lansley will today accept recommendations from UK immunisation experts to extend the flu vaccination programme to all children.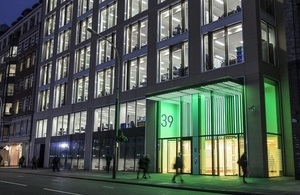 The UK Government is already recognised to have one of the world's most comprehensive vaccination programmes and under the new plans will go even further - the UK will become the first country to offer a comprehensive programme to extend the flu vaccine to all children, free of charge.
Children in at- risk groups - such as those with asthma, heart conditions or cerebral palsy - are already eligible to receive the flu vaccine on the NHS. Once the programme is up and running the vaccine will be offered to all children aged two to around 17 years on the NHS.
The decision comes after Andrew Lansley asked the Joint Committee on Vaccination and Immunisation (JCVI), a body of independent experts who advise the Government, to look at the evidence around extending the programme.
The experts have concluded that while there are significant challenges involved in extending the programme, but they are outweighed by the health benefits that a comprehensive immunisation programme could bring.
A number of key aspects now need to be looked at. The most significant challenge will be in sourcing enough new vaccine as there is only one manufacturer and they will not have the capacity to deliver enough new vaccine until 2014 at the very earliest.
Once established the new flu vaccination programme will cost more than £100 million each year and will be offered to up to nine million children. Due to the nature of the flu season the vaccine will need to be given to the children during in a six to eight week period.
Even with moderate vaccination uptake we could see around a 40 per cent drop in the number of people affected - that would mean at least 11,000 fewer hospitalisations as a result of flu and around 2,000 fewer deaths a year.
And the benefits could be even greater if we achieve our ambitious plans for roll out of the vaccination programme.
The children vaccinated will receive extra protection but the biggest benefit will be protecting very young infants, older people and those in at-risk groups such as those with asthma, diabetes or heart disease.
Other issues that will be examined before a programme can be rolled out include:
who will deliver the vaccine - should it be school nurses or others with appropriate qualifications and how will they be trained;
how should the programme best be delivered in a six to eight week period ahead of the flu season; and
how best we can talk to parents about why we are offering the vaccine so they feel reassured.
In the meantime, the priority remains to increase vaccine uptake in at-risk groups such as those aged 65 and over and at-risk groups including diabetics, asthmatics and those with neurological conditions and pregnant women.
Chief Medical Officer Professor Dame Sally Davies said:
Severe winter flu and its complications can  make people really ill  and can kill, particularly those who are weak and frail which is why we already offer vaccinations to the most at-risk groups.
We accept the advice of our expert committee that rolling out a wider programme could further protect children. With even a modest take-up helping to protect our most vulnerable.
There are significant challenges to delivering a programme that requires up to nine million children to be vaccinated during a six week period and we will look at the recommendations in detail to decide how best to develop and deliver the programme.
The programme will use a nasal spray vaccine. It has been available for around a decade in America and has an excellent safety profile.
Last year saw very low levels of flu, and healthy children are amongst the group least likely to develop complications from being infected. However, children's close contact with each other means they are more likely to transmit the virus to other more vulnerable groups - including infants and the elderly.
Flu vaccine uptake figures can be found on pg38 of the HPA Annual Flu Report.
Published 25 July 2012