News story
Flightline wins orders in Burma and Morocco with help from UKTI
Flightline Support Ltd, an Oxford based manufacturer of aircraft refuelling vehicles and systems, secures export contracts worth over £600,000 in Burma and Morocco.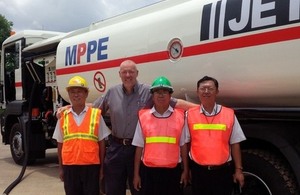 Flightline Support is working closely with UK Trade & Investment (UKTI) to help export over three quarters of their £8 million turnover.
Richard Lewis, Sales and Marketing Manager for Flightline Support, said:
UKTI have been a fantastic help to us. We are experienced exporters - we have exported for many years to markets across East and West Africa, the Middle East and even Siberia, but the help UKTI provides us cannot be underestimated.
I would advise anyone to give UKTI a call and speak to an adviser – they open so many doors and give so much advice and support.
Burma order
Flightline Support are among the first UK companies to clinch orders in the country since the trade sanctions were lifted 12 months ago.
Yangon airport is now expected to see over 3.8 million passengers a year. Flightline Support won a contract to supply the airport with two 20,000 litre aircraft refuelling vehicles.
Richard Lewis said:
When the tender came up in 2013 we worked closely with our local partner company, who provide fuel and fuelling expertise, to secure the deal.
The fact that our company is renowned globally for high quality and ultra reliable equipment gave us a headstart.
Flightline Support are staying on track with their export strategy.
Ray Harris, Managing Director of Flightline support, recently visited the re-opened British Embassy in Burma to meet UKTI staff. They discussed forging stronger ties with Myanma Petroleum Products Enterprise (MPPE) and the Myanmar Ministry of Energy.
Morocco deal
Flightline Support also recently secured a £200,000 order to supply Oilibya in Morocco with a 20,000 litre aircraft refuelling vehicle.
UKTI staff at the British Consulate in Casablanca were able to provide urgently required advice regarding specific payment mechanisms used in Morocco. This helped to secure the order.
New focus
Flightline Support Ltd is now focusing on other areas in south east Asia. Their success in Burma has resulted in enquiries from Thailand and Papua New Guinea. They are heading out to the region with UKTI later in the year.
Stephen Myatt, aerospace specialist for UKTI South East said:
Flightline are a fantastically ambitious company. The fact they are already a well established global exporter, but continue to push to new markets shows their determination.
Richard Lewis added,
Thailand, Indonesia, Malaysia and Papua New Guinea, are all very strong growth markets where airport development is on the up.
The company are also attending the International Airport show in Singapore where they hope to clinch further deals.
Contact us
Book an appointment with an export adviser if you're interested in developing your business overseas.
Published 21 August 2014