News story
Flash Sale - Technology Products
Check out the range of fantastic deals that we have negotiated with our technology product suppliers. They are available to all of our public sector customers, so start saving today.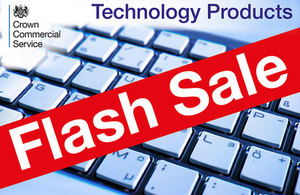 We've been working with a number of suppliers on our Technology Products agreement (RM1054) to offer you huge savings on a range of products including desktops and laptops.
These short-term deals with manufacturers, including Hewlett Packard, Dell and Lenovo, could help you save up to 35% for your organisation - whether you are a school, college, local council, NHS trust, charity, police force or government department.
Accessing the deals
To view the deals, simply log in to the eMarketplace search for TPFS
If you do not have a log on, you can find out more about the eMarketplace and how to register in the guide for public sector buyers
These Flash Sale deals are only available through Technology Products (RM1054) via the catalogue content on the eMarketplace.
Published 10 March 2016
Last updated 25 April 2016
+ show all updates
The Technology Products Flash Sale is now closed.
First published.