Flags fly for Armed Forces Day
The flags were hoisted today to show support for members of the Armed Forces, veterans, cadets and their families. In Afghanistan, the Union…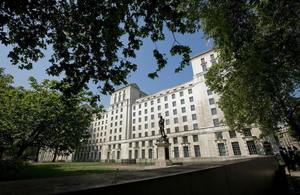 The flags were hoisted today to show support for members of the Armed Forces, veterans, cadets and their families.
In Afghanistan, the Union Flag continued to be flown across British bases in theatre, with the Armed Forces Day Flag proudly displayed alongside by personnel serving there.
Wing Commander Martin Tinworth, from the Media Operations Centre at Camp Bastion, in Helmand province, Afghanistan, said:
Whilst it will be a normal working day for military personnel from all three Services serving their country across Afghanistan, it is heartwarming to know that the public back home are thinking of us on Armed Forces Day. The support of the British public is hugely important to us all, especially when we are so far from home.
Back home, bases across the country displayed their solidarity with their comrades in theatre by flying their Armed Forces Day Flags.
Armed Forces Day is a chance for the British public to show their support for the men and women of the Armed Forces Community - from currently serving troops to Service families, and from veterans to cadets.
As well as raising the Armed Forces Day Flag, communities across the country are hosting hundreds of events to celebrate the Armed Forces, with the national, three-day celebration taking place in Edinburgh from 24-26 June 2011.
The Defence Secretary, Dr Liam Fox, said:
Armed Forces Day provides a unique opportunity for us all to pay thanks to the men and women who serve this country with such distinction. As Defence Secretary I have the privilege of witnessing the work they do at first hand: defending our nation and its interests both at home and abroad. They represent the very best of Britain.
Published 20 June 2011